FOR ALL AGES
Forget About Age Limits!
Strike Zone is for anyone who loves the game of baseball.
Perfect Gift
Strike Zone is the perfect gift for every baseball or softball fan looking for a realistic, at-home experience.
For All Ages
Strike Zone offers both basic and advanced gameplay styles to suit players of all ages.
Family Fun
Spend countless hours playing together as a family and bonding together.
Teach Baseball
Strike Zone is the best way to teach the game of baseball to your kids while having non-stop fun!
Bonding Time
Have hours of fun bonding with friends and family of all ages while playing Strike Zone.
Creating Memories
Create lasting memories and capture the game play using Mobile Scoreboard App.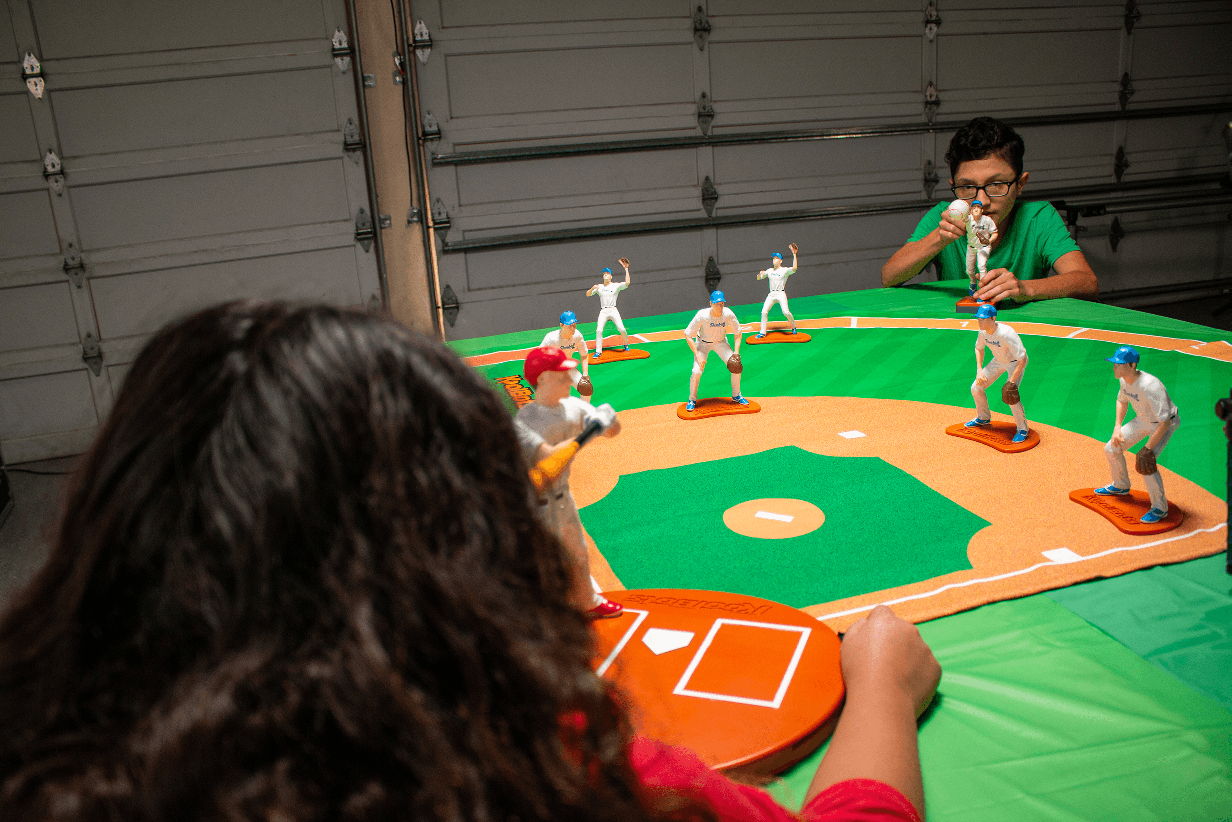 Challenge Match
Challenge your friends and families for the "ultimate showdown" match.
America's Pastime
Strike Zone brings the authentic experience & nostalgia of playing baseball.
PLAY BALL!
How To Play
The rules for playing Strike Zone are nearly identical to actual baseball, and playing is just as exciting! The game can be played in 3 simple steps.
PITCH
Vary the pace of the ball and get Strike Outs.
SWING
Hit a single, double, triple or even home runs.
SCORE
Track the score using Mobile Scoreboard App.
CONNECT
Do More With The App!
MANAGE SCOREBOARD
Record your game's score, take pictures, and capture the action with videos!
CAPTURE MEMORIES
Tag the picture and videos for easy search later.
SHARE MOMENTS
Share the score, pictures & videos taken during the game with friends and family.
WHATS IN THE BOX?
A Box Full Of Excitement
Realistic Batter
10 inch figure with realistic head, shoulder, and hip movement.
Home Plate
12 x 12 inch round batter's base stand made for durability.
Pitcher
10 inch figure capabable of throwing the ball up to 6 feet.
Catcher
6 inch high-quality realistic figure with removeable helmet.
Baseball Field
5 x 5 feet baseball diamond that's your field of dreams.
Winner Coin
High-quality 55mm diameter metal coin.
Baseball Fielders
7 total fielders, each high-quality 7 inch realistic figures.
The Blue Monster
Take the game notch up a level with The Blue Monster wall to challenge the batter to hit towering home runs.
The Mound
Take your game to the next level by pitching a fast ball or change up making it hard to guess the speed and arc of the ball.
Mobile App
Free mobile app that keeps score and tracks each game.
Augmented Reality Mobile App
Available as part of the Collector's Edition, the AR mobile app brings the game to life and adds another level of realism right on your table.
REVIEWS
What People Are Saying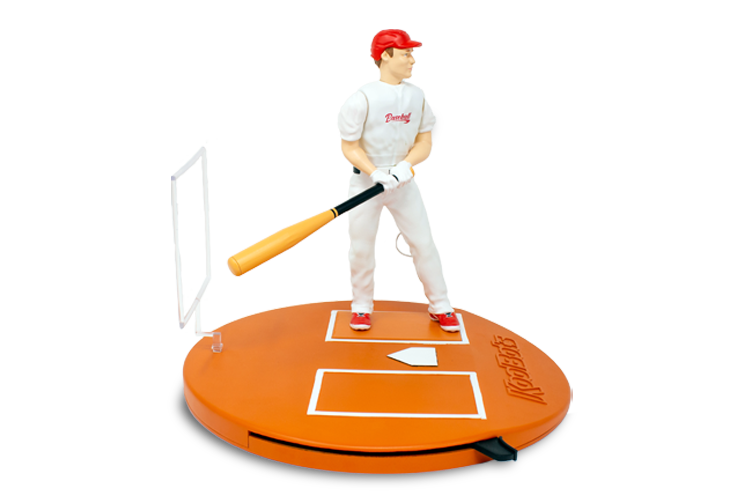 What a blast!
"Wow! What a blast we had playing Strike Zone. A rare time I actually saw my teenagers willingly put down the screens and have quality play time with our whole family. Priceless."
Misty
United States
Loved playing Strike Zone!
"Our large family has an age range from 3-40 and every single one of us LOVED playing Strike Zone. The app allows effortless track of our progress. No matter the weather conditions outside, we can all have a great day of playing ball."
Jeff
United States
So much Fun!
"SO MUCH FUN!! I know my teenagers couldn't get enough but honestly, I'm thinking of making this part of our regular adult game nights. Whether you're on the roster or cheering on the benches, Strike Zone is a hit every time!"
Matt
United States
It's so easy to get started!
"It's easy to set up, interactive for the entire family and the game goes on even when the conditions outside shut down the fields. Strike Zone gives me an opportunity to pass down to my kids my great love for this timeless all American game."
Bill
United States
StrikeZone is a Home Run!
"StrikeZone is a HOME RUN. I look forward to being one of the first to order it. The pieces of the game are durable and the figures almost feel like hand-crafted action figures. And when I did connect with the ball for a home run, it felt like the real thing! Thank you Koolbots!"
Greg
United States
Fun for everyone!
"I worked on the StrikeZone video shoot and saw first-hand how fun this game is! The actors in the video playing the game instantly understood how to play and they were having so much fun, even I, the cameraman, had to jump in and participate! This game is fun for everyone, even film crews. Can't wait to get my own!"
Mike
United States
Brings families together for game night!
"I knew StrikeZone was a hit 5 minutes into playing the game. Koolbots has created a larger than life tabletop game that will bring families together while bonding over the sport they love."
Joel
United States